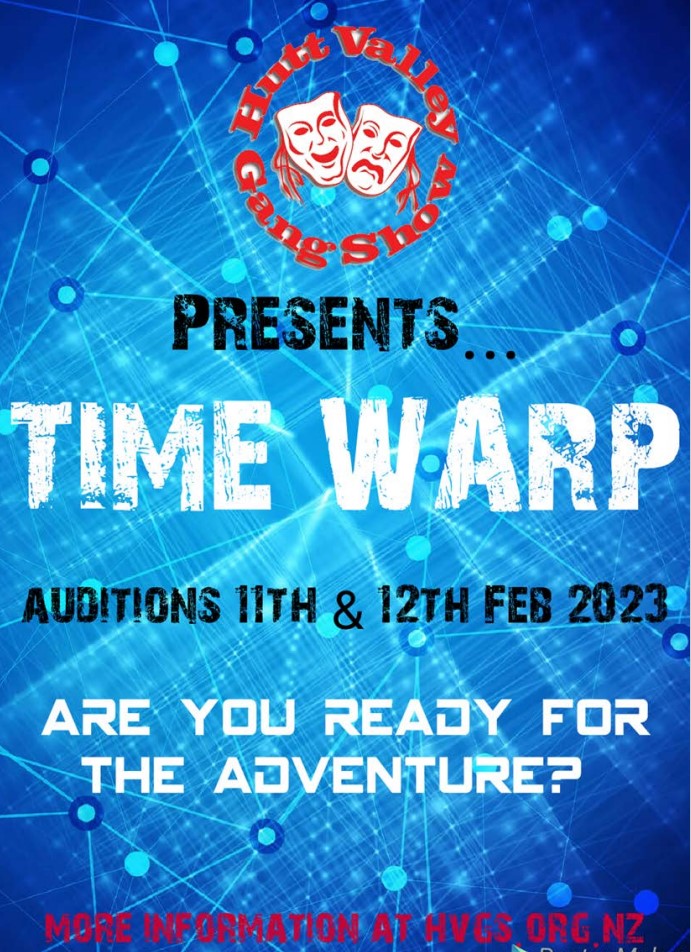 Hutt Valley Scout and Guide Gang Show 2023
Time Warp is a show of the past where you are taken on an adventure through past songs, dances and skits. Its about remembering the past and looking to the future. Spiral into the past to learn how great Gang Show was and is.
Auditions
Auditions for the 2023 HVGS will be hosted at the Belmont Scout Hall (Belmont Domain, Norfolk Street, Belmont, Lower Hutt) on the 11th & 12th of February 2023. Keep your eyes peeled for audition sign up later this year. 
HVGS 2023 Helpers
We are always on the look out for more helpers! If you are interested in helping with any aspect of the show, please get in touch with our production administrator, Belinda admin@hvgs.org.nz
We are looking for the following assistance - Backstage (over 16), Dressers, Make up, Front of house, Catering, Security 
HVGS 2023 Performance Dates
HVGS 2023 will be performed at the Lower Hutt Little Theatre, Laings Rd, Lower Hutt at the following times:
Monday 12 June: 7.30pm
Tuesday 13th June: 7.30pm
Wednesday 14th June: 7.30pm
Thursday 15th June: 7.30pm
Friday 16th June: 7.30pm
Saturday 17th June: 2pm and 7.30pm